India´s first Continental Panel Discussion on Start-ups during Covid-19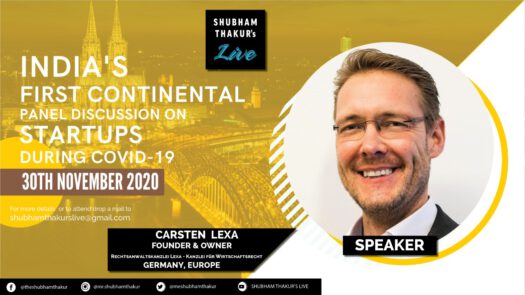 Start-ups have emerged as key drivers of economic growth and job creation, and are often a catalyst for radical innovation. During the COVID-19 crisis, start-ups have continued to play a critical role in economies. Some innovative young firms have reacted fast and flexibly to the pandemic, and have been critical in helping many countries shift towards fully digital work, education, and health services, and have provided innovations in medical goods and services.
The crisis is reducing the creation of start-ups, challenging their survival, and limiting their growth. Policymakers should tackle short-term challenges, but also and importantly foster the ability of start-ups to grasp new business opportunities, reducing barriers to entrepreneurship, providing the right incentives, and boosting entrepreneurial potential.
In this panel discussion, hosted by Shubham Thakur from India, we'll have the participation of people from each continent to share knowledge and analyze the situation of startups and ecosystems during the pandemic. The discussion is also an effort to spread knowledge for survival and growth about the same among the people.
Participants:
Shikhil Sharma, Founder, Astra Security (INDIA, ASIA)
Siyabonga Tiwana, Co-founder, Skywalk innovations (South Africa, AFRICA)
Sydney Wong, Founder, Venturx (Canada, North America)
Carsten Lexa, LL.M., Business Lawyer, Co-Founder of startup initiative Gründen@Würzburg, Author & Speaker (Germany,
EUROPE)
The panel discussion will be in English language and the livestream can be accessed via this link: https://youtu.be/e4lDZUBUVDc